Maimouna's journey to the ship is dramatic as ship doctor Nerida, who operated on Maimouna four years ago, travels to Guinea which has only recently been cleared of Ebola to find Maimouna and bring her back to the ship for critical surgery. Lighter moments are told in the story of Nanjire and Nadire, twin girls with identical bowed legs.
Crew & Patient Bios
Meet the Mercy Ships volunteers and their patients featured in Episode 5 of The Surgery Ship.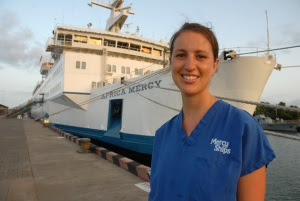 Dr. Nerida Moore
Paediatrician – Australia
Dr. Nerida Moore is a young Aussie doctor who previously volunteered on the ship as a surgeon specialising in plastic and reconstructive surgery. She has now decided to retrain as a paediatrician, partly as a result of her experiences as a volunteer on board. Dr. Nerida  continues to work in other parts of Africa including most recently in Togo.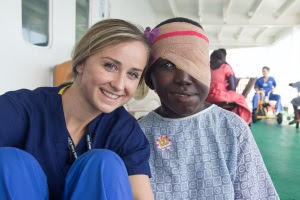 Maimouna
Plastics patient, 17
In 2012, when the Africa Mercy visited Guinea,  one of the thousands of patients the surgeons operated on was Maimouna, a 13-year-old girl with a neurofibroma. This type of tumour is mostly benign, but can be locally very aggressive and destructive. Now, 4 years later, Mercy Ships receives an unsettling message. Maimouna's  tumour has grown back.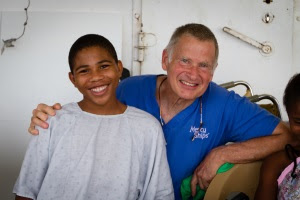 Dr. Frank Haydon
Orthopaedic Surgeon – USA
Dr. Frank Haydon has been working with Mercy Ships since 2009 as an orthopaedic surgeon and functions as a lead surgeon and specialty consultant. His wife Kathleen also works on the ship as an OR nurse. After their first trip to Mercy Ships and seeing the amazing impact their services had on the kids and their families they knew they had found their place.  Dr. Frank has performed about 650 procedures during his tenure.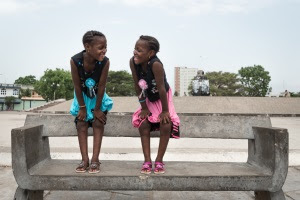 Nanjyre and Nadire
Orthopaedic patients, 8
Nadire and Nanjyre are 8-year-old identical twins from the lakeside capital of Benin, Porto Novo. They live with their parents and grandmother in a busy two-storey compound that's home to dozens of families. In the shared courtyard – despite their bowed legs – the girls happily play with other children. Nadire and Nanjyre were two of 150 patients selected to receive orthopaedic surgery on board the Africa Mercy with hopes that straightening their legs will give the girls a chance at living productive lives as adults.