The hospital ship arrives in port Cotonou, Benin. The volunteer medics on board commence screening, surgeries are planned and the first patients begin treatment. The team faces mounting unrest in the crowd of thousands outside the screening centre and life or death decisions for the hopefuls inside. Featured patients include Julien – a young man with an enormous facial tumour that puts him in iminent danger of suffocation, Michel – a young boy who is initially turned away but in a dramatic turnaround is brought back to the ship for surgery, and Baby Patricia – a child with a cleft lip.
Crew & Patient Bios
Meet the Mercy Ships volunteers and their patients featured in Episode 1 of The Surgery Ship.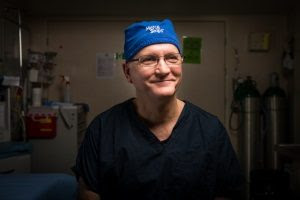 Dr. Gary Parker
Chief Medical Officer/Maxillo Facial Surgeon – USA
Gary Parker is the Chief Medical Officer on board the Africa Mercy. He is the key surgeon who operates on the extraordinary and large facial tumours that occur. No one embodies Mercy Ships like Dr. Gary; everyone on ship is universally in awe of him. Gary's particular speciality is large maxillo facial craniofacial tumours, cleft lip and cleft palate, and ear-nose-throat diseases – life-threatening conditions for children and adults throughout Africa.
Gary has spent his professional life on board the ship, over 30 years of continual service. He and his wife Susan have brought up two children on board. His children have just started college in the USA and Gary and Susan are now spending more time on land to support them.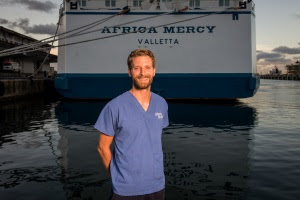 Nate Claus
Screening Supervisor – USA
As Screening Supervisor, Nate Claus wrestles with big decisions and their consequences. Rising quickly since his first service with Mercy Ships in 2015, Nate is passionate and dedicated and is the key point of contact for our entire patient screening operation.
This year the ship is also trialling a new way of screening remote patients – reducing the number of people presenting with conditions that the ship cannot help.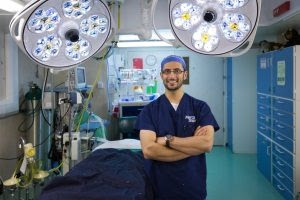 Dr. Mark Shrime
Otolaryngology Surgeon – USA
Mark is currently Clinical Instructor at Harvard Medical School, Associate Staff at Massachusetts Eye and Ear Infirmary and Staff Surgeon Mercy Ships. He is a leader in the field of global surgery for poverty alleviation.
Mark is a specialist ENT surgeon and a leading academic in the field of Global Health – which essentially means working out the best way to improve the medical and in his case particularly the surgical capacity and systems of developing nations. He's an Assoc. Prof. and director of research in Global Health at Harvard Medical School. Mark is feted by some on ship to be the next Dr. Gary.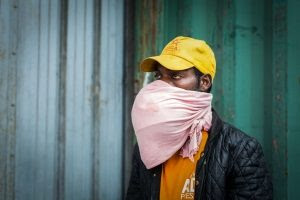 Julien
Maxillo Facial patient, 35
Julien has a large tumour protruding from his lower jaw, which he covers with an old, pink rag. He lives in a remote village north of Cotonou with his mother and younger brother, Marcellin. After seeing information on the internet about Mercy Ships, Marcellin brought his brother to the screening in Cotonou. Julien waited for days, sleeping at the screening site in hopes of being seen.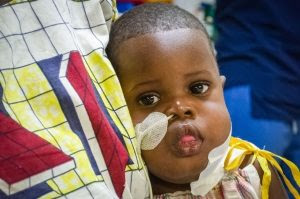 Michel
Maxillo Facial patient, 1
Michel has a large tumour in his mouth and was struggling to breath. He was sent straight to palliative care because the tumour has grown so quickly in such a short period. It is later learned that Michel might be able to be helped and he is signed up for a surgeon screening with Dr. Mark Shrime.