WHO WE ARE
Financials & Annual Reports
Our annual reports are based on calendar financial year end.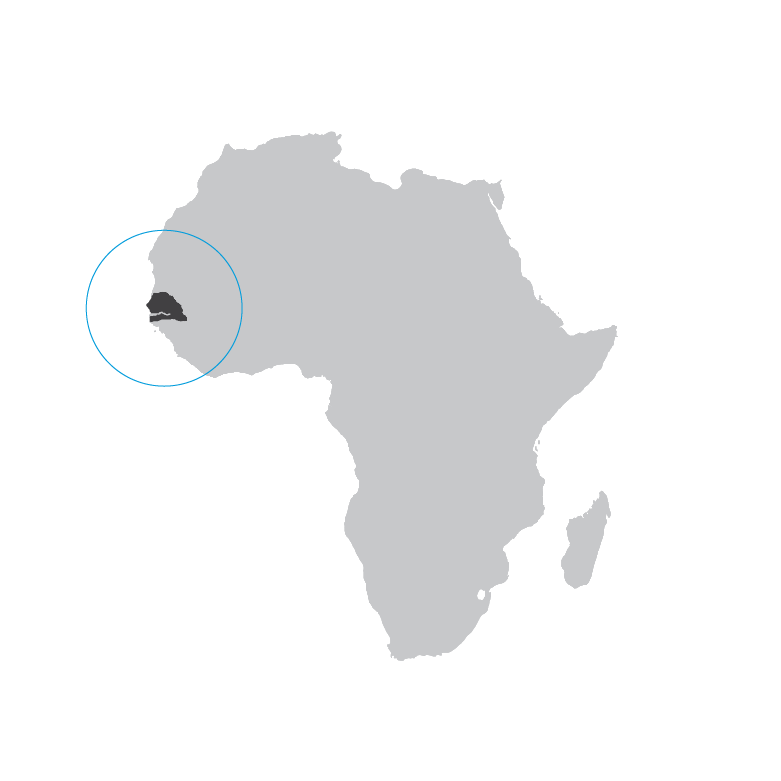 Together with Africa, Asia and the Pacific
2021 was a complicated year for healthcare around the world. In developing
nations, where human and material resources are normally scarce,
the global COVID-19 pandemic threatened to decimate local healthcare
systems. Having identified the urgent need to support these health services
through the crisis, Mercy Ships Australia began looking for corporate and
philanthropic partners to supply the needed PPE and equipment and local
partners in the developing countries in Africa and Asia/Pacific to receive and
distribute these resources. Mercy Ships was there before the pandemic, we're there during and, with your help, we'll certainly be there long after.
The following graphs depict the total numbers from our service in 2021.
3,138
total
surgical procedures
16,067
total
dental procedures
2,526
basic oral health
instruction

PPE & Supplies
Provided to Asia/Pacific
Resources to protect healthcare workers in countries like Papua New Guinea, Samoa, Fiji, Tokelau & Niue, were already at risk and in short supply. During 2021, Mercy Ships Australia received and shipped supplies and equipment worth more than $1.5 million dollars to help them to identify and treat COVID-19 patients more effectively.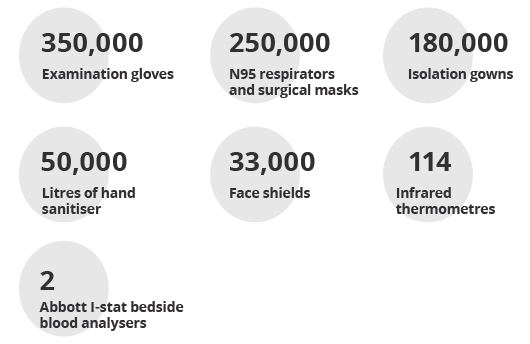 1,343 healthcare professionals trained
Courses presented in Africa
At Mercy Ships, we believe we have been called to help strengthen the healthcare systems of the countries we serve. In an effort to create sustainable change, we offer multiple training and mentoring courses to local medical professionals providing education and information for safe, effective healthcare. Our many mentoring and education projects are implemented as part of a strategy called the Partner Unit Mentoring Program (PUMP). Many participants in our various programs continue to share their knowledge with their own communities resulting in a forwarding of skills and creating a legacy that can last for generations.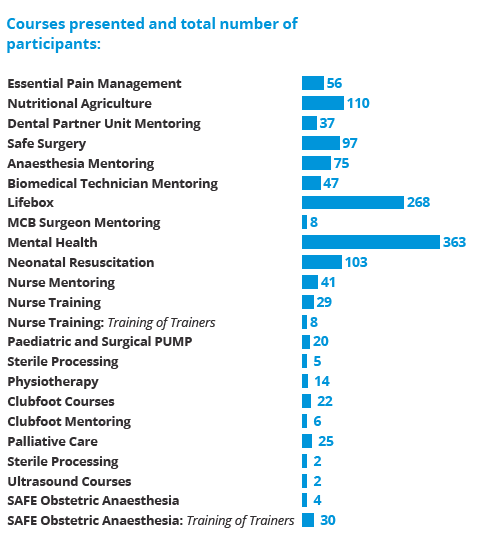 In 2021, one of our goals as an organisation was to help as many people as we do during a normal year.
WHO WE ARE
Our Organisation
Mercy Ships Australia (a key member of the Mercy Ships global partnership) was founded in 2001.  A global charity that has operated hospital ships in developing nations since 1978, bringing hope and healing to the forgotten poor by mobilising people and resources worldwide, Mercy Ships serves all people without regard for race, gender or religion.
A dream that began in a young man's heart has become reality — a state-of-the-art hospital ship that delivers hope and healing to people around the globe living in dire circumstances.
Mercy Ships uses state-of-the-art hospital ships that deliver free, world-class health care services, capacity building and sustainable development aid to those without access in the developing world. Founded in 1978, Mercy Ships has worked in more than 70 countries providing services valued at more than $1.66 billion, with more than 2.77 million direct beneficiaries. Each year, more than 1,000 volunteers from over 40 nations serve with Mercy Ships. Professionals including surgeons, dentists, nurses, health care trainers, teachers, cooks, seamen, engineers, and support staff donate their time and skills to the effort. Mercy Ships seeks to transform individuals and serve nations one at a time.
HOW DONATIONS ARE ALLOCATED
Mercy Ships is committed to being completely transparent with you. From every $1 donation, 83c goes straight to our Ship and Field Operations to provide surgeries and medical care to those who have no other hope. As little as 17c is set aside for the cost of raising volunteers and funds and overhead expenses.
Where does the money come from?
Most of our donations come from regular people who generously donate whatever they can, as small or as large as that amount may be. Money donated to Mercy Ships Australia comes from many areas of the community, including individuals, organisations, and wills and bequests.
Mercy Ships Australia is a charity registered in Australia with the Australian Charities and Not-for-profits Commission (ACNC) and governed by the Australian Board, who are responsible to 114 Australian members. The Australian Office, based in Caloundra, Queensland, is part of a global network of offices whose mission is to promote the important work of Mercy Ships and undertake volunteer recruitment, fundraising, and procurement of materials and services.
The work of Mercy Ships is to provide relief of sickness and the promotion of health of the poor and disadvantaged in developing countries.
The objectives of Mercy Ships Australia are to:
recruit sufficient volunteers for each year's field missions;

raise sufficient funds and materials for each year's field missions; and

generate awareness of the important work of Mercy Ships
75.3% – Hospital | Surgical Medical Services

75.3%

75.3%

6.4% – Hospital | Non-Surgical Medical Services

6.4%

6.4%

2.7% – Medical Capacity Building Mentoring

2.7%

2.7%

15.1% – Medical Capacity Building Courses

15.1%

15.1%

0.5% – Infrastructure Projects

0.5%

0.5%